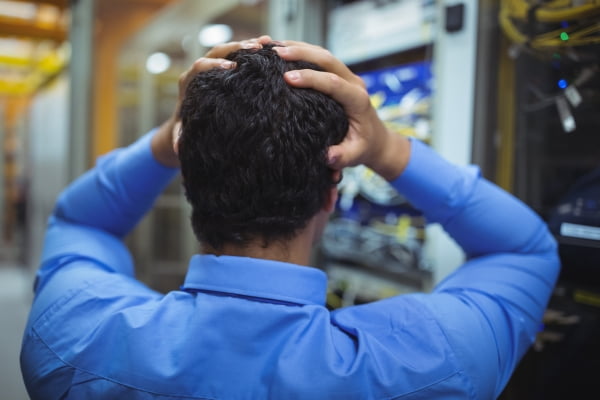 Any Microsoft Azure consultant or development partner that's worth their salt should set you up for success. Many times, they don't. HingePoint is different.
Migrating To Azure (And Integrating It) Is Stressful
Getting Microsoft Azure to work for your organization is full of complex challenges.
Deadlines, security, and feature requests all make things worse.
Be The Hero, Without The Stress.
You already know the benefits of the cloud and Azure – you don't need to talk to a salesperson.
You simply want a trusted partner with experience in both strategy and execution that will make you into the organization's hero that made Azure work.
That's what HingePoint does.
From design to deployment, we help you integrate and develop off of Microsoft's Azure cloud platform.
We'll help you design and customize Azure to fit your needs… and let you take the credit.

We helped Harwood International moved infrastructure from on premise to cloud for Office 365, Exchange, Active Directory (AD), PowerBI, various dashboards, Microsoft Office apps (Word, Excel, PowerPoint), and hybrid SharePoint for enterprise document management to Azure.

We helped FabTech to integrate Azure with CAD and Autodesk Revit Apps, as well as integrating with ERP manufacturing systems by creating web services that send email notifications for Microsoft Excel reports. Additionally, we helped them integrate bill of materials (BOM) and web services workflows on Azure – all secured off the desktop.

We helped various engineering and construction companies (Compass General Contractors, Butier Engineering, Cincotta Construction, IAV Engineering) to create a custom setup for Procore, Office 365, SharePoint, and Microsoft Teams that includes web services integration on/with Azure, SQL, and enterprise services.
HingePoint's Roadmap for a Successful Deployment

Analysis & Scoping
We scope the solution to your specific requirements, budget and timeline. Tailored to you.

Design & Develop
We'll work with your key stakeholders to create and/or integrate solutions that achieve your business goals.

Test & Deploy
We fully test, secure, and deploy your solution. Training users to maximize adoption and enjoy the benefits.
Contact Us »
We Promise Not To:
…sell you on the importance of the cloud (or Azure)
…talk down to you with confusing industry jargon
…take the credit that you deserve
These consultants found ways to weave data from many of our tools into one perfectly simple solution we all use every day.

Construction Manager
HingePoint helped us discover and create the most mission critical deliverable in our division in 10 years. It's changed our business. We couldn't work without it.

VP Product of Design
This is the first time we've been able to get tools catered exactly to the job at hand, not being told by vendors or IT that it can't be done.

Sr. Director of Design and Architecture
Your Roadmap for Azure Success
Decide What to Move to Azure
Select which parts of your business operations should be moved from old, slow, expensive servers to the fast, affordable Azure cloud
What new technology capabilities does your business need? Data, document management, mobile, collaboration? Decide which you'd like to add to the cloud
Pick an experienced team of professionals to handle the migration to Azure (ex. HingePoint)
Stand-Up Azure Cloud Systems
Create new server-less web applications to replace old hosting servers
Develop SQL data services to replace old SQL servers
Integrate with scalable web services on the service fabric
Create Active Directory, Exchange, SharePoint, Office365, Outlook, and document storage
Migrate and Optimize
Migrate all legacy systems to Azure, with efficient tools the migrations are much faster than doing physical server or application upgrades
Retire the old, expensive servers/technology
Enjoy your elegant, high performance Azure platform with tons of tools for IT admins to manage everything from one Azure dashboard
Optimize your business with new cloud, mobile, and high-end technology that can enhance almost any area of your business
Contact Us »
FAQs (Azure Consulting, Dev & Integration)
Yes, we prefer to use an Azure cloud-hosted SQL database because it has more options and fewer limitations than the hosted, on-premise version of SQL. It can also rapidly scale bigger than 1 server capacity. Plus, it's (typically) cheaper because you only pay for the data you store and transmit.

That's fine. We can migrate any piece to Azure (such as Active directory, Exchange, Office365 apps, SharePoint, and SQL servers, and network file servers). We can also architect a hybrid architecture that uses some elements of on-premise and some in the Azure cloud.

This Procore connector for SharePoint is built on Azure.

Yes, we help with:

✓ Azure mobile app development & services
✓ Azure app services
✓ .Net
✓ C#
✓ Microsoft Exchange

✓ AI
✓ Big data
✓ Data security
✓ Enterprise integration
✓ Hybrid networks

✓ Identity management
✓ SQL, NoSQL ("not only SQL")
✓ Internet of Things (IoT)
✓ Microservices
✓ Serverless

✓ VM workloads
✓ Web applications
✓ Website hosting/CDN
✓ Process training on the Azure solution we built for you
✓ Ongoing support of Azure

…and much more!

Microsoft puts it this way: "Platform as a service (PaaS) is a complete development and deployment environment in the cloud, with resources that enable you to deliver everything from simple cloud-based apps to sophisticated, cloud-enabled enterprise applications. You purchase the resources you need from a cloud service provider [ex. Azure] on a pay-as-you-go basis".

You might also be wondering how PaaS, software as a service (SaaS), and infrastructure as a service (IaaS) are different. Here's how Microsoft explains it:

As you can tell, the answer is yes! We recommend clients move all Microsoft technology and custom applications to Azure servers and re-architect their other applications to use Azure web services. We can help you do that as your trusted Azure partner.
Have any other questions? We'd be happy to answer them!