MS Teams is ready-to-use and is easy to get up and running. But…
without a proper road map, you will find yourself in a mess of choppy (or insecure) integrations, rogue groups, and even duplicate teams and SharePoint sites.
Our MS Teams services will set you up for success by:

Providing Best Practices
Whether you're creating custom templates, integrating into SharePoint, MS Office, or other Microsoft Office 365 apps, we'll guide you through choosing the right settings, training your enterprise team, and migrating data to make sure you're maximizing user experience.

Keeping You Secure
We'll help you in securing MS Teams with Azure Active Directory. We'll also guide you through planning Teams architecture and document security to help you avoid compromising the security of your current MS Office, SharePoint, or Active Directory.

Integrations: Procore & More
Our custom Teams development and integrations will extend the power of MS Teams into key areas of your business, such as Procore and other document systems like Dropbox, Box.Net, and beyond. See a demo of our Procore and MS Teams integration.
What is MS Teams?
Teams is the Microsoft fully integrated work/collaboration app.
In one place you can have all your documents, chats (so you don't have to text each other), calls and webcasts (so you don't have to use your cell phones for work calls), collaborate by everyone working on the same documents at the same time in Office 365 (O365) as it should be.
Teams is similar to Slack, but Microsoft Teams is also a hub for integrations into other MS apps such as SharePoint, OneDrive, Microsoft Planner, Outlook, and OneNote — all in one place.
How We Help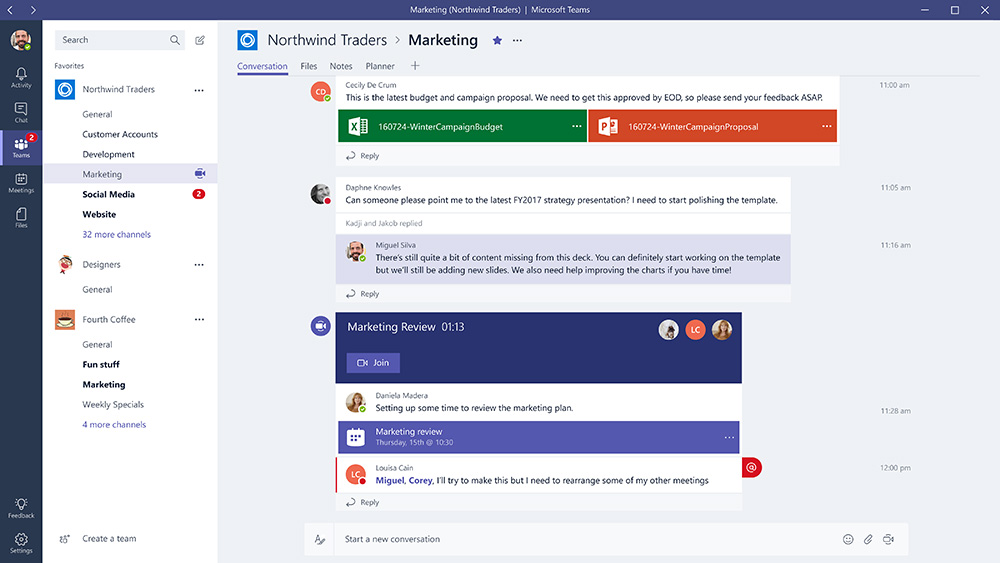 What are the features and benefits of HingePoint's MS Teams solutions?
Initial Teams Assessments – We start by taking an inventory of what you have set up so far so we can prioritize our effort.
Teams Plan and Architecture – We maximize your budget by giving a plan that uses as many "out of the box" solutions as possible.
Development for Teams – We do the work needed to create and set up all your teams.
Secure Teams with Active Directory – We create all the active directory security so Teams is secure with your additional apps.
Doc & Data Migrations – We do more heavy-lifting by transferring docs and data from other systems and setting them up in your team.
Enterprise Training for Teams – We show you how to manage MS Teams yourself, and be there for you if you need additional support.
Integration with Procore – We connect documents to sync in real-time with Procore construction and other document solutions.
SharePoint Integration with Teams – We make sure SharePoint and Teams are properly integrated and synced to keep everyone on the same page.
---
Video – watch this video demonstrating our MS Teams and Procore integration.
3 Steps To MS Teams Success
Before working with HingePoint, we were just another commercial real estate company trying to get deals done. Now, we're one of the most innovative firms in the industry. HingePoint's knowledge, insight and guidance has allowed us to manage risk systematically better, affording us the opportunity to scale efficiently while also generating increased profits at both the property and company level

Victor R. Mendiola, Jr., Promesa Investments
We prototyped Office365 and compared it to Google Docs for our entire school district across 7 campuses. From teachers to students, online accesses from anywhere. Amazing.

Director of Systems
The Idea Lab was the first time we've ever had the chance to imagine exactly how we wanted our systems to work, and someone deliver exactly that for us!

Director of Interior Design
Frequently Asked Questions (FAQs)
Plan on what "teams" you need (teams are a summary of people, so 5 people are a team). And on that team, you put all your projects, documents, and collaborate with everyone, all in one place. So get away from management by email! Those days are gone.

Yes. Teams creates a Sharepoint site to store your documents and notes from your Teams. We can set up your teams to work with your existing Sharepoint sites, to maximize your Office 365 tools.

Yep! We've custom-built a Microsoft Teams integration with Procore.