Streamline your daily workflow, while getting your job done more quickly and effectively.
Similar to Trello, Planner enables your company's teams or groups to create multiple task lists associated with different projects or daily to-do checklists. Microsoft Planner helps remove chaos from the team collaboration environment.
Review of Microsoft Planner for Project Management
Users can assign tasks, share files, and collaborate through chat to execute a project or plan.
Each plan has its own "board" (similar to Trello) where the user can organize tasks into different buckets, enabling the user to filter by Due Date, Categories, or by Assigned User. The HingePoint Team recreated our daily task lists using this tool and it works like a charm!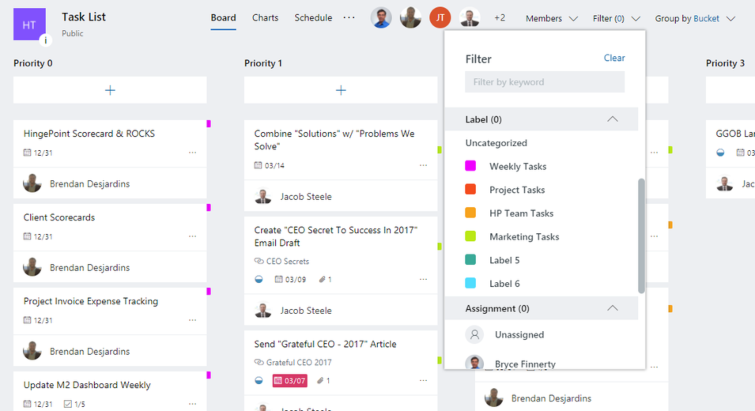 Microsoft Planner has many of the same filtering capabilities as SharePoint lists
So it is a niche replacement for tools that previously had to be built from scratch or customized from other list templates. The best part about Microsoft Planner is that it syncs directly with the associated Office 365 group. This allows you to embed your team's plans into your SharePoint Team Site and add value and understanding to what your specified team is working on. 
Integration with Planner + SharePoint + Teams is one of the most powerful productivity boosters opportunities for Office 365 (O365) users. See how our strategic integration and onboarding of these Microsoft apps can help you you can better your workflow.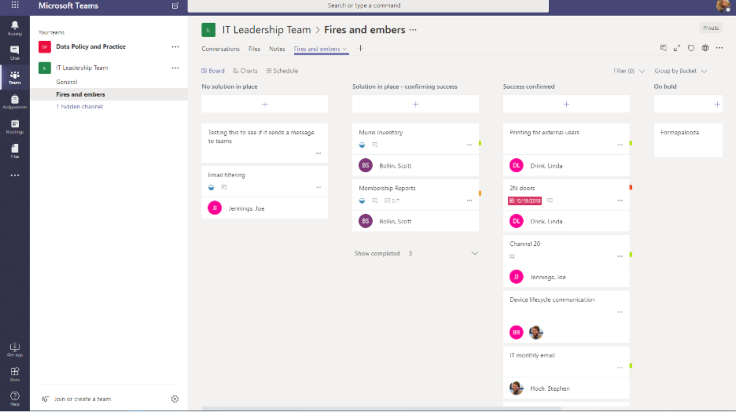 Microsoft Planner provides an out-of-the-box functionality for creating charts for your team's various assigned tasks.
It keeps everyone informed about which tasks are in progress, not started, late, or complete. Because we customize Microsoft Office 365 for businesses, we've even recreated a Microsoft Project plan in Planner to potentially use it as a way to communicate project plans across our organization, without assigning Microsoft Project licenses to all relevant parties. The prototypes track most of the same information that our project managers track throughout a project's life-cycle and could prove to be a solution for Project Managers across all industries.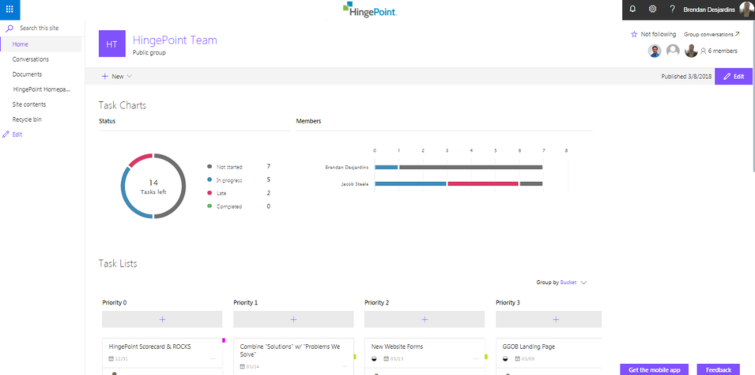 Microsoft Planner Details & Updates
Some of the new releases associated with Microsoft Planner include new "Group" and "Filter" options (mentioned above) and integration into the new Office 365 group card that gives you easy access to all the components of a group, such as conversations, calendar, notebook, files, planner, and other collaborative tools.
Microsoft is also currently rolling out a new feature that allows a user's Outlook calendar to sync with Microsoft Planner.
Microsoft Planner recently developed several new updates including:
Microsoft Planner Guest User Access 

New Planner SharePoint Web Part enabling users to bring their project tasks directly into a SharePoint page or news article. (Have we mentioned that we're an

experienced SharePoint developer and consultant

?)

Microsoft Teams

and Microsoft Planner integration allowing users to view all of their assigned tasks across plans from Microsoft Teams.

Ability display and share views of Planner tasks on a timeline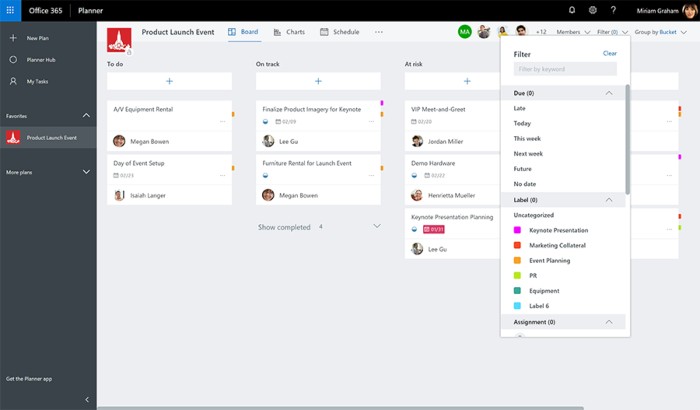 Planner comes standard with each the following Office 365 Plans:
Office 365 Business Essentials

Office 365 Business Premium

Office 365 Enterprise E1

Office 365 Enterprise E3

Office 365 Enterprise E5

Office 365 Education

Office 365 Education E5
Overall, Microsoft Planner is a tool that HingePoint believes could be an excellent solution to many of the operational procedures that any company goes through on a day-to-day basis. Of course, since this is an Office 365 product, users can also access and update their plans on any mobile device with the Microsoft Planner App for iOS and Android.
Before working with HingePoint, we were just another commercial real estate company trying to get deals done. Now, we're one of the most innovative firms in the industry. HingePoint's knowledge, insight and guidance has allowed us to manage risk systematically better, affording us the opportunity to scale efficiently while also generating increased profits at both the property and company level

Victor R. Mendiola, Jr., Promesa Investments
We prototyped Office365 and compared it to Google Docs for our entire school district across 7 campuses. From teachers to students, online accesses from anywhere. Amazing.

Director of Systems
The Idea Lab was the first time we've ever had the chance to imagine exactly how we wanted our systems to work, and someone deliver exactly that for us!

Director of Interior Design
About HingePoint
HingePoint offers cloud and mobile applications for construction and real estate that are easy to adopt and employees love. Specializing in the systems that run the construction and real estate business, including Office 365, SharePoint, Power BI, Azure, Procore, MS Dynamics, Salesforce, and more. Scale and grow profitably with Financial and Project Management Dashboards, document management, and workflow automation for field to office collaboration.
Located in the Dallas, TX area, we serve businesses around the world.

Frequently Asked Questions