Best Posts of 2017 – Microsoft SharePoint
HingePoint takes great pride in being an industry leader for Real Estate & Construction companies when looking for SharePoint Consulting and Development services. 2017 was our most successful year to date and we thought it would be helpful to provide a recap of our most popular SharePoint blog posts from the previous year. Here's a quick overview of our 2017 insights about SharePoint and what's new in terms of SharePoint updates, best-practices, tips, tricks, and more:
Looking for the perfect intranet solution? Want to maximize your Office 365 investment? This article outlines key tools and features to get you started.
A great read for those looking for some the practical SharePoint tips and tricks from our guru project manager that he learned through first-hand training and heads-down hard-work with our clients.
Do you consistently find yourself wasting time hunting for files and documents? We detail four areas where SharePoint helps companies become more efficient and have more accurate, accessible information for employees.
In the commercial real estate industry, there are trends that can directly influence how companies work and achieve maximum growth. Here you will find HingePoint's take on the top technological trends for commercial real estate developers.
Finally, our most popular SharePoint post of 2017. Read up on SharePoint upgrades and improvements over the last year that drastically impact users in terms of transporting cloud-based Office 365 capabilities onto the SharePoint platform. We identify five improvements we use to get the most out of Office 365 and SharePoint.
This article was so great that @SharePoint Retweeted it!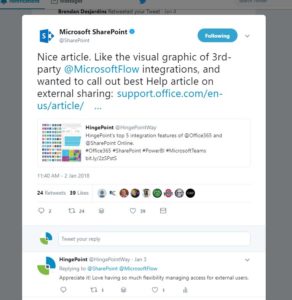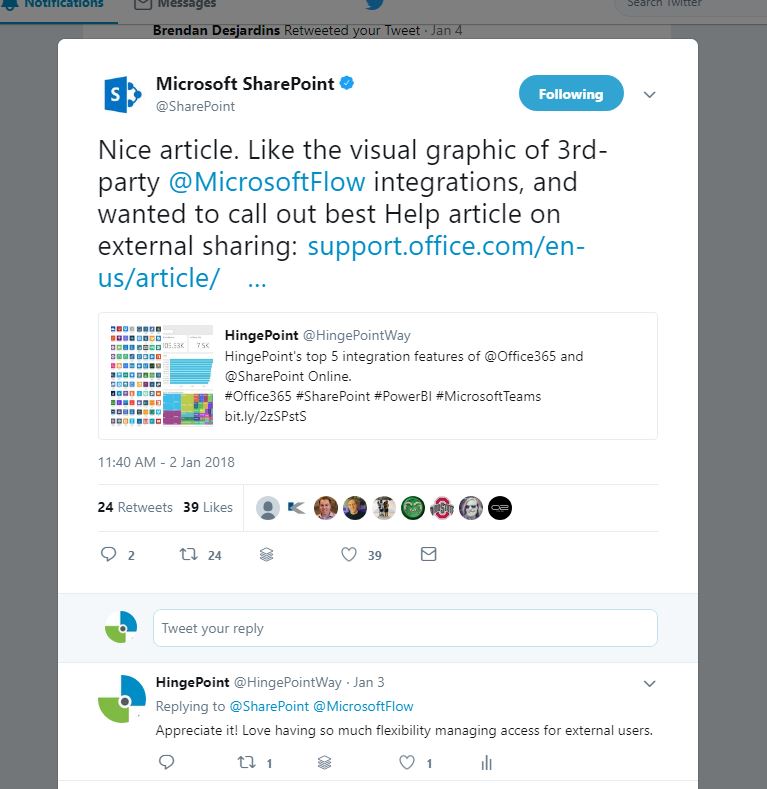 Thanks for Reading!
We hope that you found this recap beneficial as we took a look back at 2017. There are big things coming in 2018 that we are extremely excited about.
We look forward to keeping you in-the-know with all of our tips, insights, and developments as they unfold!
—
About HingePoint, LLC
HingePoint offers cloud and mobile applications for construction and real estate that are easy to adopt and employees love. Specializing in the systems that run the construction and real estate business including SharePoint, Salesforce, Procore, MS Dynamics, and Autodesk. Scale and grow profitably with Financial and Project Management Dashboards, document management, and workflow automation for field to office collaboration.
HingePoint
8105 Rasor Blvd.
Suite 241
Plano, TX 75024
(214) 301-0000
www.hingepoint.com