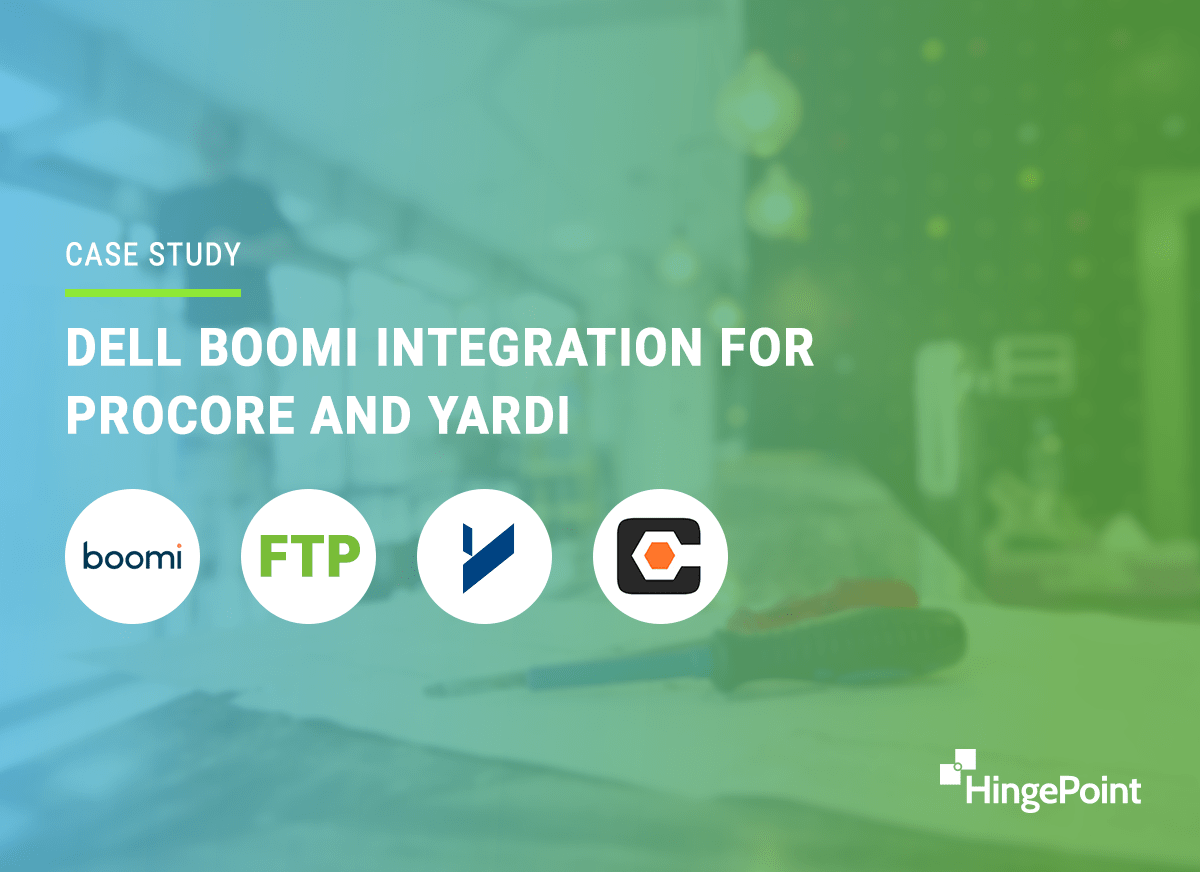 Summary:
Setup Dell Boomi integration between two major tools, Yardi and Procore, as well as updated csv flat data file in bulk from FTP server
Periodic data updates across multiple systems for New Budgets, Budget Revisions and Job Costs
Bulk csv file updates were supported to parse data and consume in the other system via Dell Boomi Atomsphere
​
Project by the Numbers
22 Procore API End Points integrated
100's of Yardi Projects updated weekly
1000's of budget line items updated automatically, weekly
The Challenge
Manual data entry between duplicate systems – Yardi and Procore
Massive dataset and files with several records that required to be updated on each system in bulk
Dell Boomi API Authentication Issues were discovered within Yardi's API
If cost codes were not mapped correctly for certain budgets, it failed the entire operation and required exception handling
The Solutions
Time-driven sync between Yardi and Procore
Supported single and multi-record data entry into both systems
Integrated and uploaded data to both systems from flat files on an FTP server
Testimonials
"This saves so much time to have my budgets automatically updated weekly from Yardi to Procore. I don't have to manually update them anymore."
– Construction Manager
"The integration is the first of its kind using 22 API end points to update budgets between Yardi and Procore. "
– Sr Director, Enterprise Applications
Ongoing Benefits
Automated data reads and syncs between Yardi and Procore Budgets and Costs
Flat file reads and updates
Exception handling for incorrect cost code mappings
Eliminated time-consuming tedious manual corrections and entries
Who Was Helped:
Executive Leadership Team and Investments Team
Developers, Asset Managers, Project Managers
Construction Managers and Logistics
Systems Integrated:
Yardi and Procore REST APIs
FTP Server
Dell Boomi Atmosphere
Application Landing Page
The landing page is displayed when the user logs in via SSO.
The navigation, menu options, pages and features are all controlled via RBAC permissions and Azure AD.