David Greenleaf, a diehard Dallas Cowboys fan, visited the team's new world headquarters recently and was so excited he told all his Facebook friends he was going to become a member of the gym at the facility.
But this isn't in Arlington where one of the most spectacular stadiums in the world sits; it's in Frisco. The Cowboys recently built The Star in Frisco, which is a 91-acre campus that hosts the world headquarters of the Dallas Cowboys.
In addition to playing home to the corporate offices and practice facility, The Star in Frisco features the Ford Center—a state-of-the-art indoor football stadium that will host a variety of events, an entertainment district lined with restaurants and shops, the Omni hotel, a medical center and more.
The Star in Frisco offers an experience for fans worldwide to take a look inside the entire operation of the Dallas Cowboys and to workout like a Cowboy.
"It's awesome," Greenleaf said. "As soon I return from vacation I am joining."
It's no secret that Collin County is rapidly growing with major developments like Legacy West and corporate offices in Plano and many developments surrounding the Star in Frisco.
Because of the development, Frisco is getting its first high-rise building, and three other developments will be built in the area.
The area in known as the $5-billion mile because it is seeing more than $5 billion in capital investment.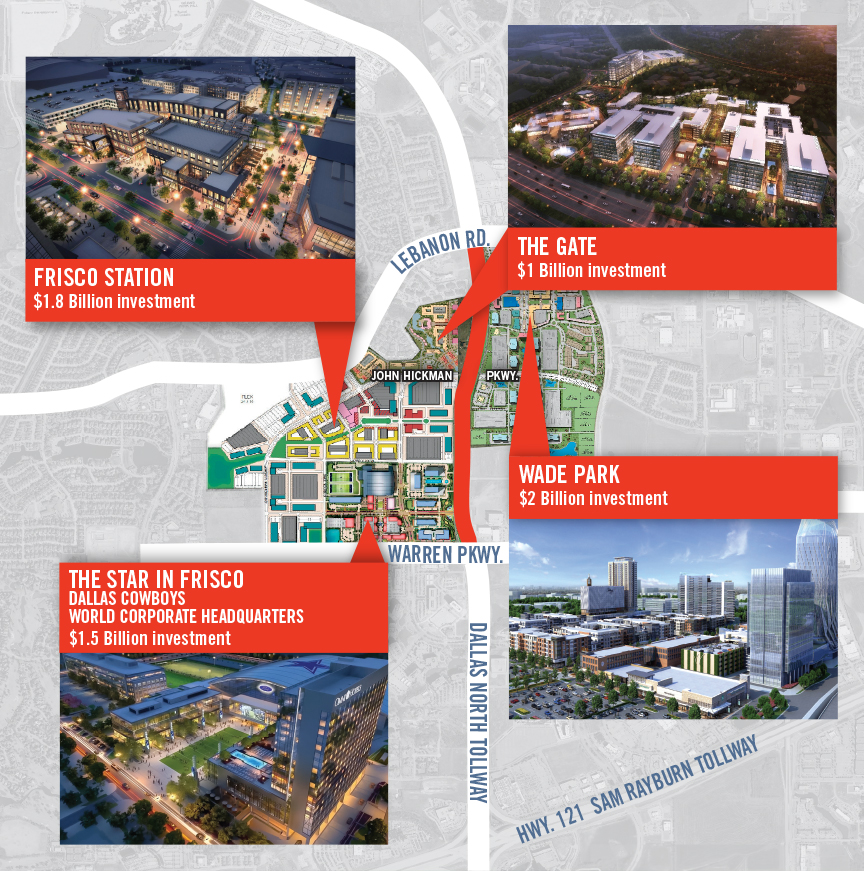 Frisco Station
Also in the same area is Frisco Station, developed by Rudman Partnership, Hillwood Properties, and ValTrust Real Estate. It's 242 acres, mixed-use development, which includes, office, retail, restaurants and hotels.
According to the press release: The Rudman's have owned land in Frisco for more than 50 years, and their developments in the City include the Baylor Medical Center Complex, the 2500 Legacy Office Building, the luxury residential subdivisions Stonebriar Park and Chapel Creek and the Villas at Chapel Creek aApartments
The Gate
Dubai-based Invest Group Overseas are also developing mixed-use area to feature luxury residential, retail and office space.
The mixed-use luxury development to be located on nearly 41 acres at the northwest corner of the Dallas North Tollway and future John Hickman Parkway. IGO's corporate leaders introduced the project Sunday in Dubai, at Cityscape Global, one of the largest international real estate development and investment events in the world.
Wade Park
Thomas Land & Development is developing 175 acres of mixed-use land as well.
The initial 110 acres of Wade Park are under design by Wakefield Beasley & Associates architectural firm, developing village featuring 600,000 square feet of high- end specialty retail, including a 45,000 square foot Whole Foods Market. Entertainment venues for bowling, movies and nightlife will be announced in the coming weeks, and a boutique hotel and a luxury hotel are also in the development plan.
About HingePoint
HingePoint covers the AEC Industry and is the author of The AEC Industry 4.0 Report and the Autodesk Industry Report 2017. HingePoint helps construction and real estate development companies take control of their company's information. We combine systems, software, and data so all company information can be seen and accessed from one screen, like a smartphone or computer.
HingePoint provides Procore, SharePoint and Salesforce consulting for Commercial Real Estate and Construction companies. HingePoint also helps the AEC industry with development & integration of AutoDesk and Procore products with enterprise systems. We are a trusted partner with over 25 years experience of systems development and integration work in the AEC industry. Our clients range from top hotel brands and restaurant chains to AEC firms and real estate developers and Facilities Management. We provide BIM with ROI. Results Guaranteed…Literally Guaranteed.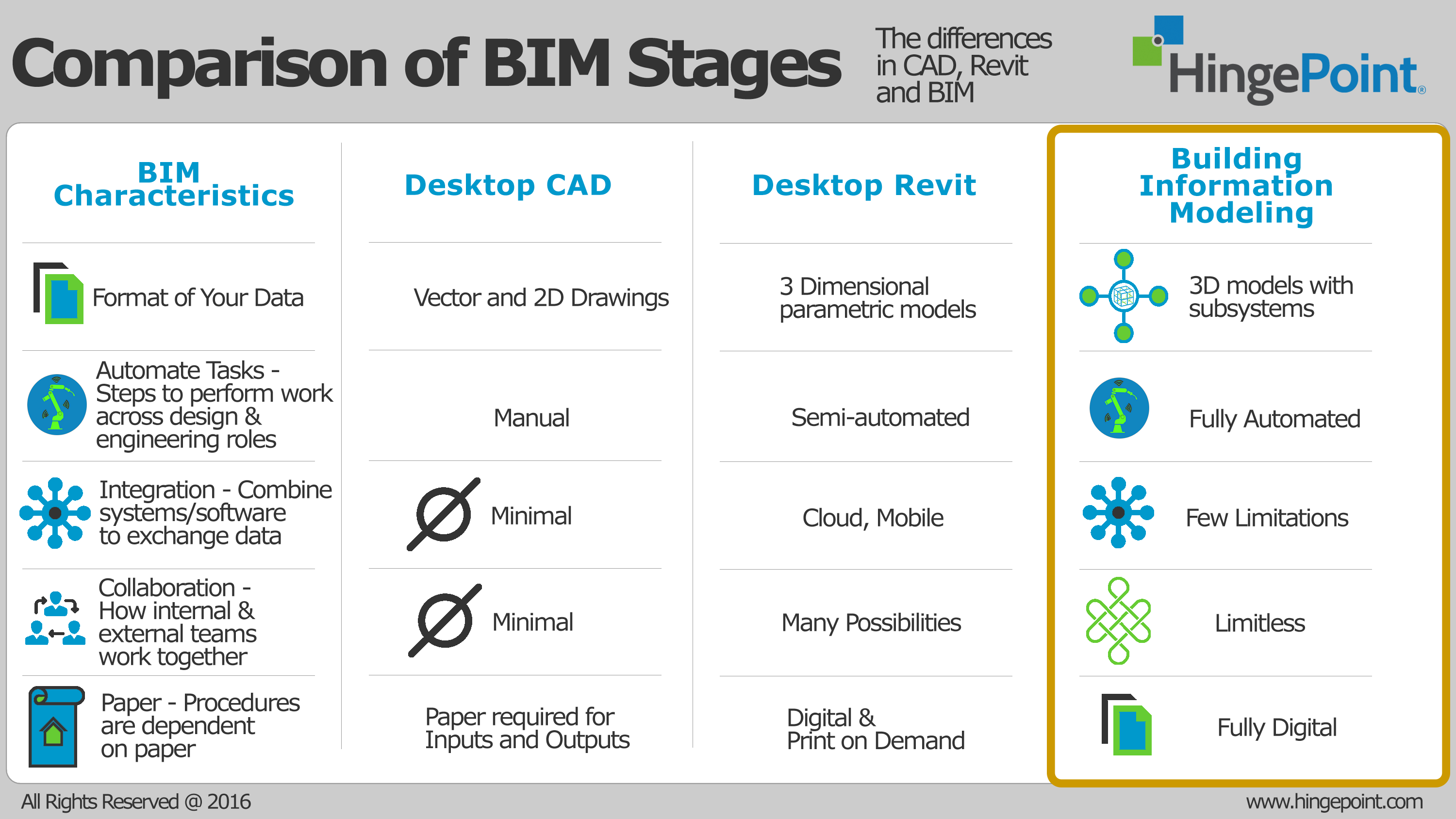 Download our BIM_Comparison Table here. See where you are on to the path to BIM. The idea to be fully digital while printing on-demand, fully automated and able to collaborate with virtually anyone on a project.
Need help with BIM integration?