What is a SharePoint Hub Site?

A SharePoint hub site enables you to organize your intranet by associating multiple team sites and communication sites together. Also known as "SharePoint hubs – the intranet with focus", SharePoint hub sites provide a modern navigational structure, document library, look and feel, and search capabilities across associated sites. You can use SharePoint Online in Office 365 to organize concepts, teams, divisions, or resources throughout your organization, making it easier to:
✓ Search across all associated sites, even on the mobile app
✓ Discover relevant content, and related content types such as news and other site activities
✓ Apply common navigation and branding across associated sites for a modern experience of a digital workplace.
SharePoint hub sites combine news and activities from your different associated sites and display the roll-up on the hub's home page. This could potentially have a significant impact on the way you construct intranets and departmental sites within your organization.
The association can be changed whenever you like, meaning that making changes to the organizational structure will be as simple as adjusting a setting in the admin center.
If you're trying to customize SharePoint hubs or SharePoint online hubs to meet your organization's unique needs, HingePoint can help.
Searching for Content Across SharePoint Hubs
News and activities from your different associated sites are combined. That means when you search, you're seeing content on the current hub site and content on any associated sites in the results.
Users searching for items will only see results for which they have access to. This feature greatly simplifies the process of managing what information users can access.
Because of the navigation abilities of cross-site collections that have been lacking in previous SharePoint versions, we believe hub sites can be most valuable in an intranet scenario.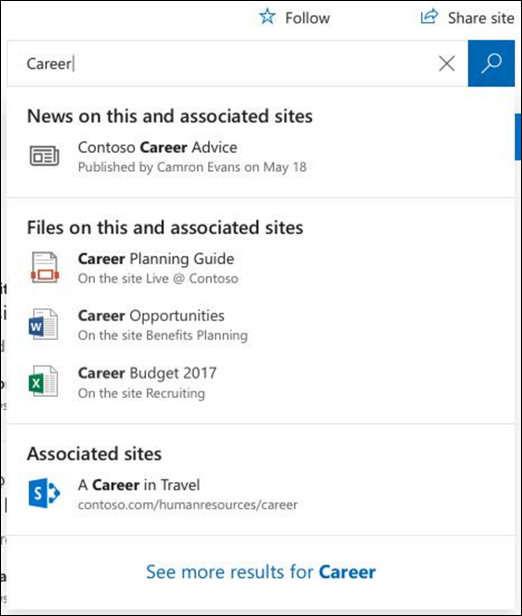 HingePoint's Roadmap for a Successful Deployment

Analysis & Scoping
We scope the solution to your specific requirements, budget and timeline. Tailored to you.

Design & Develop
We'll work with your key stakeholders to create and/or integrate solutions that achieve your business goals.

Test & Deploy
We fully test, secure, and deploy your solution. Training users to maximize adoption and enjoy the benefits.
Contact Us »
We prototyped Office365 and compared it to Google Docs for our entire school district across 7 campuses. From teachers to students, online accesses from anywhere. Amazing.

Director of Systems
These consultants found ways to weave data from many of our tools into one perfectly simple solution we all use every day.

Construction Manager
We migrated all our network drives from 50 states into Office365 SharePoint Online libraries. It now powers our intranet and extranet." 

IT Director
FAQs About SharePoint Hub Sites
A SharePoint site you can designate as the primary site for a hub, which is a collection of many sites. 

It will create a global navigation bar to navigate to the other sites as a hub

You can search all sites from the hub search bar in the navigation bar. 

It creates an Intranet type user experience and "one stop shop" for all site contents

They work as the homepage from which you can search off the sites in the hub, and Microsoft automatically links all those sites together, creating a global navigation option.

Go to the SharePoint site Home Page

Click the Gear Icon in the upper right of the screen

Click on Site Information

Choose your Hub Site Association and click on Save

Navigate to Admin Center 

Click on active sites on the left pane

Select your Communication Site 

Select "Register as hub site"

Navigate to Admin Center 

Click on active sites on the left pane

Select your Team Site 

Select "Register as hub site"

Navigate to the Hub Site 

Find the "Edit" button to the right of the navigation 

Under the left pane select the ellipsis to the right of the site you want to remove from the navigation

Select "Remove"

Navigate to Admin Center 

Click on active sites on the left pane

Select your Team Site 

Select "Change Hub Association"

You can join any site into a hub site, including modern sites, classic sites, templates, team sites, and communication sites.

You can locate hub sites from the SharePoint admin panel in the active sites menu. It will denote which is a hub.