Last week, the HingePoint team attended an information-packed day of learning and networking at the Salesforce Trailhead Live Conference in Dallas, TX. Attendees received insights from both Salesforce executives and executives from other enterprise companies about how to drive innovation and success like never before. Success stories about how other Customer Trailblazers, partners, and product experts use Salesforce to connect with their customers in different ways reinforced how powerful of a tool it has become over the years.
Overall, the event was very well done and if you were not busy taking too many pictures with Einstein (pictured below), you left with lots of info on new Salesforce features and enhancements to existing products. HingePoint attended the all-day event and gained many valuable takeaways.
Over the course of this week, the HingePoint team will post three articles covering the top 3 Salesforce tools you should know and use in 2018:
Salesforce Quip: The New Secret Weapon for Your Sales Team

Salesforce Einstein

: Create out-of-the-box dashboards and reports to help you turn raw data into decision making information
Salesforce CPQ: Generate accurate, professional, and consistent custom quotes in minutes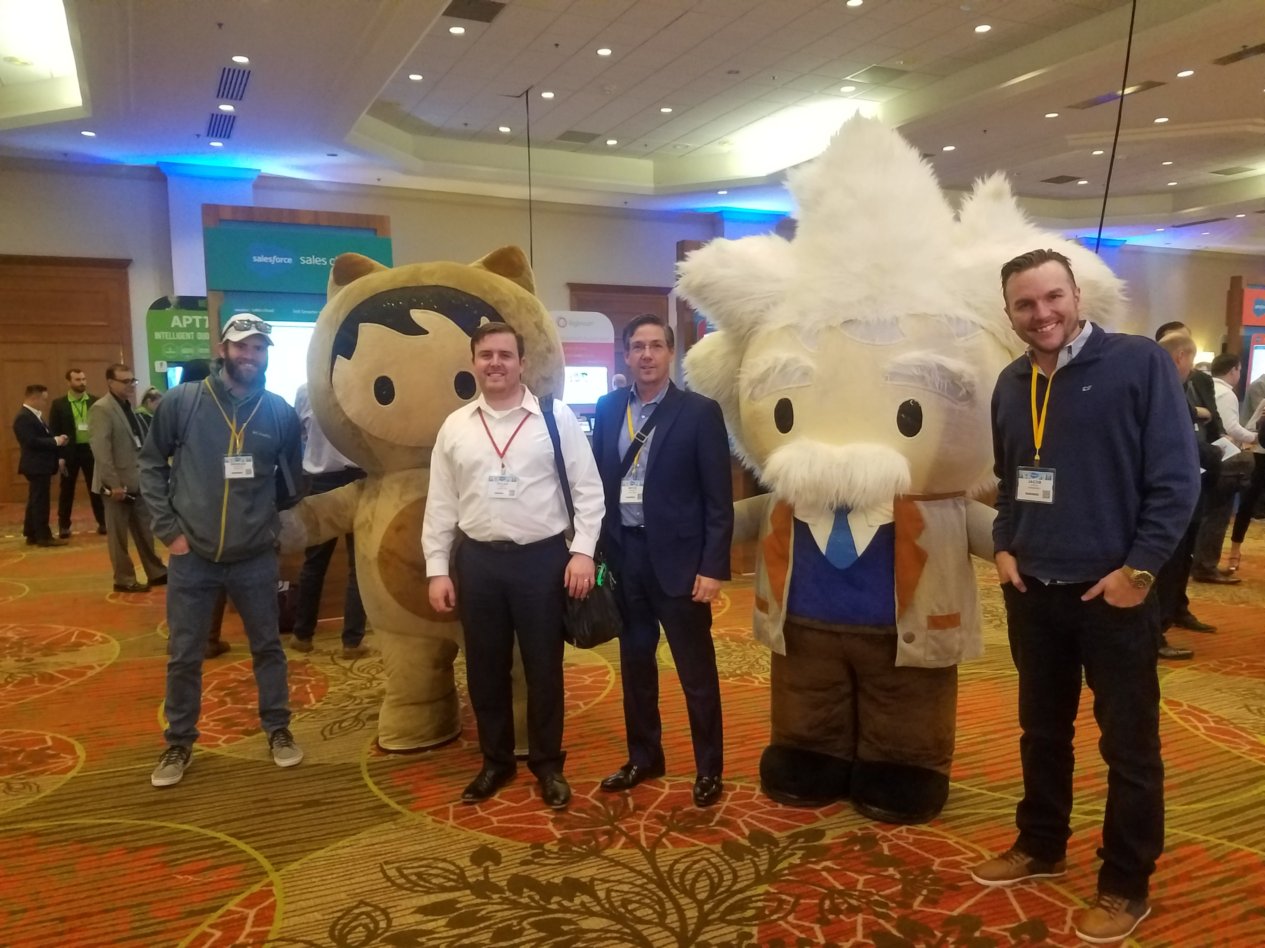 HingePoint and Salesforce
HingePoint is a Certified Salesforce Developer & Consultant Team based out of Dallas, TX.
Your systems need to work seamlessly together. Just upgrading to Salesforce isn't enough. Off the shelf, Salesforce won't talk to your accounting software, analytics applications, or marketing programs.
Our Salesforce experts our here to fix that.
Because we're in the Salesforce Development Network (certified as Salesforce developers & consultants), we know SF inside and have the coding ability to make Salesforce yours.
Here are some of the Salesforce Services HingePoint offers:
Automate workflow and business processes with Salesforce
Mobile Forms and Mobile Apps, custom designed and branded from Force1
Custom Salesforce Designed screens, forms, navigation, sites, and security, all revolving around the way you want the system to work
Custom functionality to suite your usability preferences
Fully Branded Salesforce Site templates – unique to your company
Client and Customer Portals integrated into Salesforce
Document Storage and Management integrated into Salesforce
Security tied right into your Enterprise ID (EID) and desktop apps such as Email and Calendars
Project managements, tasks, and team sites
Integrate data and documents from upstream and downstream systems, seamlessly
Custom reports and dashboards. Your management, customers will appreciate.
Document templates for Word or Excel that export Salesforce data to automate documentation
Upgrades from legacy platforms to Salesforce
Migrate data and 2-way real time sync of data between Salesforce and legacy systems