Continuing our series of the Top 4 Salesforce Features to Know and Use in 2018, Salesforce has recently released a new product that rivals the collaboration experience of tools such as Microsoft Teams. Salesforce announced the release of their new product Quip at Dreamforce, their annual conference, on November 6th, 2017. Salesforce, traditionally known as the global leader in software based CRM tools, has catapulted themselves into a new realm of team collaboration with Quip.
Quip allows users to separate themselves from management-by-email. Instead, users navigate to a portal that has everything they need to accomplish their daily tasks. This cloud-based collaboration platform allows the user to combine documents, spreadsheets, apps and chat with live CRM data. Much like Microsoft Teams, this product allows the user to collaborate with their team in a virtual workspace, while eliminating the mess that is created by emailing files back and forth. Test users have reported a 32% decrease in visits to their email client while using Quip.
Quip was initially created on a mobile platform, so this product allows you to work seamlessly between you PC, tablet, or mobile phone. Quip empowers collaboration and gives your document super powers with the "Live Apps" feature. Quip's Live Apps are custom-built applications that can be embedded directly into any Quip document. Live apps bring visibility to elements that are most relevant for the specific user's project. The user can embed Salesforce records, third-party partner apps, and other collaborative tools in any live document.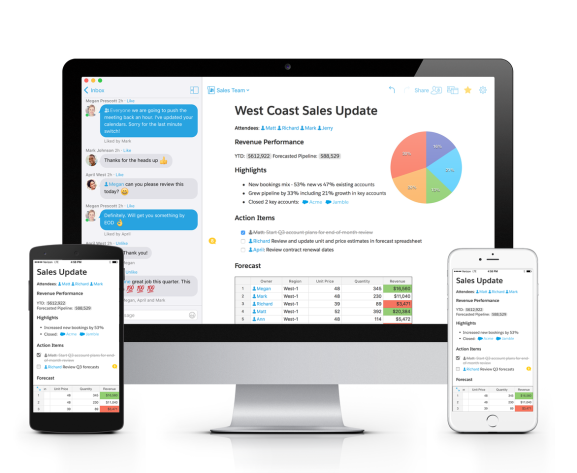 Salesforce announced several of the out-of-the-box Live Apps that will be provided for users, including Calendars for marketing and event planning, Salesforce records that allow the user to view and edit Salesforce records directly in Quip, and Kanban boards for workflow visualization. Companies such as New Relic, EA, 21st Century Fox, and Facebook have already adopted the product and use it to plan out their daily routine.
Live Apps are available today and any user with a Quip Business license has access to the Calendar and Kanban Board functionality. For a minimal cost of $25 per month, a user can upgrade to the Quip Enterprise license and gain access to many other features, such as the Salesforce Record Live app.
HingePoint and Salesforce
HingePoint is a Certified Salesforce Developer & Consultant Team based out of Dallas, TX.
Your systems need to work seamlessly together. Just upgrading to Salesforce isn't enough. Off the shelf, Salesforce won't talk to your accounting software, analytics applications, or marketing programs.
Our Salesforce experts our here to fix that.
Because we're in the Salesforce Development Network (certified as Salesforce developers & consultants), we know SF inside and have the coding ability to make Salesforce yours.
Here are some of the Salesforce Services HingePoint offers:
Automate workflow and business processes with Salesforce
Mobile Forms and Mobile Apps, custom designed and branded from Force1
Custom Salesforce Designed screens, forms, navigation, sites, and security, all revolving around the way you want the system to work
Custom functionality to suite your usability preferences
Fully Branded Salesforce Site templates – unique to your company
Client and Customer Portals integrated into Salesforce
Document Storage and Management integrated into Salesforce
Security tied right into your Enterprise ID (EID) and desktop apps such as Email and Calendars
Project managements, tasks, and team sites
Integrate data and documents from upstream and downstream systems, seamlessly
Custom reports and dashboards. Your management, customers will appreciate.
Document templates for Word or Excel that export Salesforce data to automate documentation
Upgrades from legacy platforms to Salesforce
Migrate data and 2-way real time sync of data between Salesforce and legacy systems