Continuing our series of the Top 4 Salesforce Features to Know and Use in 2018, Salesforce has released a new analytics platform: Einstein. The Einstein platform represents the full spectrum of artificial intelligence (AI) made available for CRM data and management. This includes everything from pattern recognition to predictive capabilities.
Salesforce Einstein is replacing and rebranding several previous Salesforce analytics features, including Wave. Like previous analytics features, it helps the user create actionable insights from the data that Salesforce helps you collect: data on your customers, leads, opportunities, and partners. With Einstein, these insights now have the predictive power of AI and machine learning.
Salesforce is good at capturing data, but what are you actually doing with that data?
For customers: Einstein Discovery finds patterns for you, and can predict the likelihood of a lead conversion, with a detailed breakdown of how that likelihood was reached. The user can also bring third-party data into Einstein and blend it with Salesforce data, so you can use Einstein to accelerate insights about your organization or industry.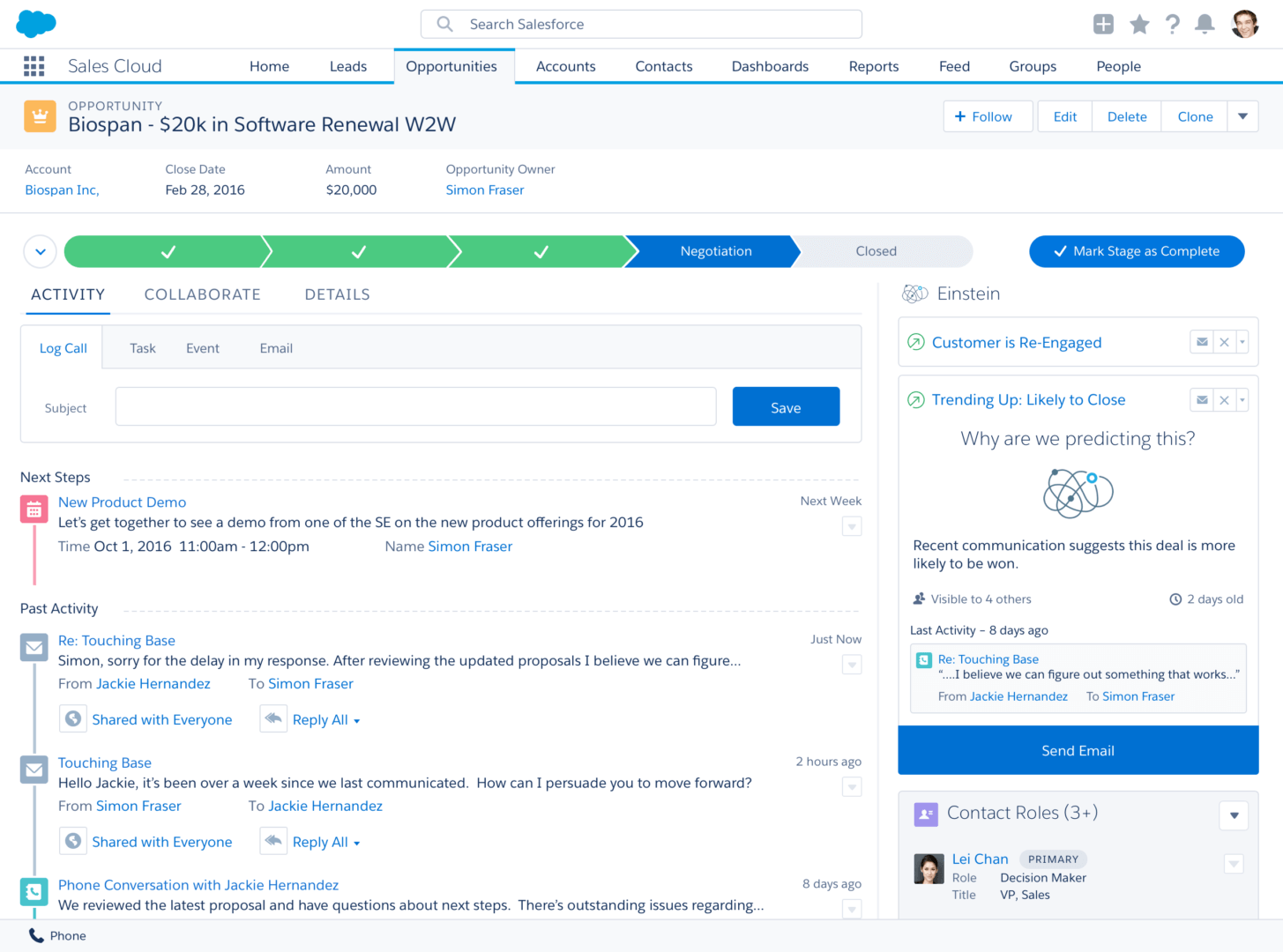 Best of all, Einstein Analytics' features require very little coding or knowledge of data science, so you don't have to be a computer or data scientist to explore the insights. The Einstein interface uses clicks, not code, so it can be used by ordinary business users, bringing the power of data science and machine learning to the customer relationship management work the user does every day.
HingePoint and Salesforce
HingePoint is a Certified Salesforce Developer & Consultant Team based out of Dallas, TX.
Your systems need to work seamlessly together. Just upgrading to Salesforce isn't enough. Off the shelf, Salesforce won't talk to your accounting software, analytics applications, or marketing programs.
Our Salesforce experts our here to fix that.
Because we're in the Salesforce Development Network (certified as Salesforce developers & consultants), we know SF inside and have the coding ability to make Salesforce yours.
Here are some of the Salesforce Services HingePoint offers:
Automate workflow and business processes with Salesforce
Mobile Forms and Mobile Apps, custom designed and branded from Force1
Custom Salesforce Designed screens, forms, navigation, sites, and security, all revolving around the way you want the system to work
Custom functionality to suite your usability preferences
Fully Branded Salesforce Site templates – unique to your company
Client and Customer Portals integrated into Salesforce
Document Storage and Management integrated into Salesforce
Security tied right into your Enterprise ID (EID) and desktop apps such as Email and Calendars
Project managements, tasks, and team sites
Integrate data and documents from upstream and downstream systems, seamlessly
Custom reports and dashboards. Your management, customers will appreciate.
Document templates for Word or Excel that export Salesforce data to automate documentation
Upgrades from legacy platforms to Salesforce
Migrate data and 2-way real time sync of data between Salesforce and legacy systems