Continuing our series of the Top 4 Salesforce Features to Know and Use in 2018, one of the toughest questions a salesperson receives is "how much does it cost?" The answer to this question can make or break a deal. Not only does the salesperson have to worry about accurate quotes on certain items, and for more complex products, they also need to worry about quoting add-ons that may or may not be relevant to the customer. The process can take hours when done manually.
Enter Salesforce CPQ (Configure-Price-Quote, formerly known as "Steelbrick").
What does SalesForce CPQ Actually Do?
CPQ takes the busy work out of building complex quotes, allowing a salesperson to focus on selling the value of their products and services.
Since the most valuable resource for a salesperson is time, having the ability to generate a professional quote in the matter of minutes, shortens sales pipelines and lets the rep focus on closing more deals.
Configure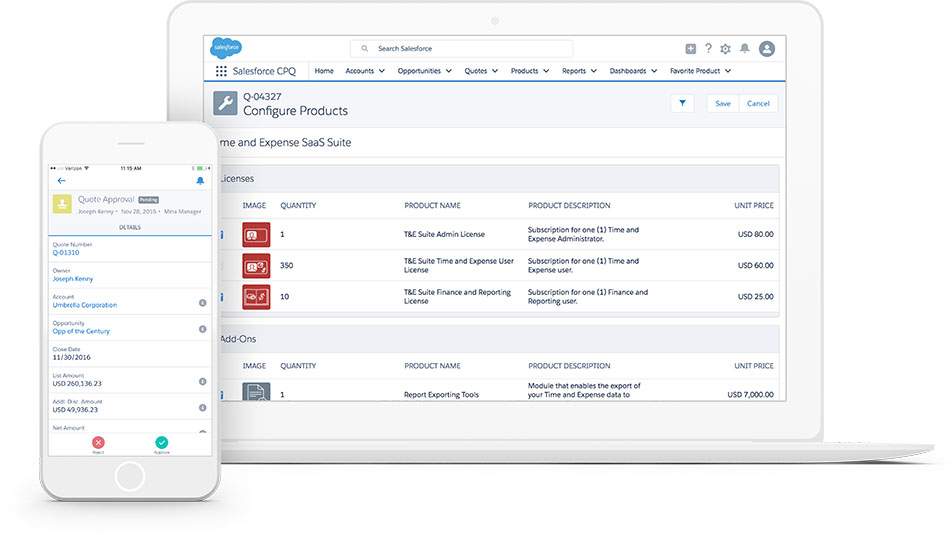 Salesforce CPQ (Configure-Price-Quote) starts by finding common needs for a certain client. Whether it be a government agency looking for a fleet of new work trucks or a small firm seeking a couple trucks to get them started, CPQ gathers data from each quote to determine products or services that should be quoted for specific clients. This allows reps to receive a tailored list of products or services they can focus on selling to a specific client.
Price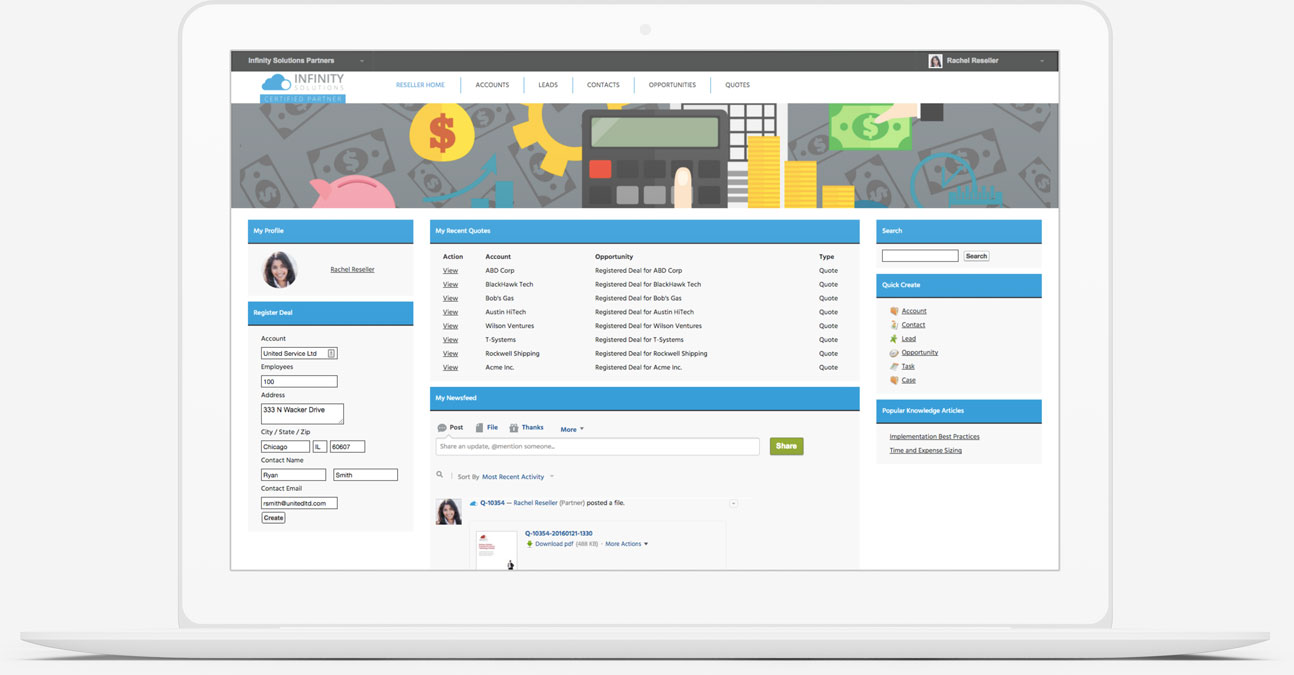 Sales reps can produce quotes more efficiently by having all the pricing information at their fingertips. The CPQ software connects to your product catalog and populates quotes and orders in your CRM. Salesforce CPQ allows reps to apply discretionary discounts and flags any improper discounts for review. Once all products or services have been selected, CPQ generates a breakdown and calculates the final price.
Quote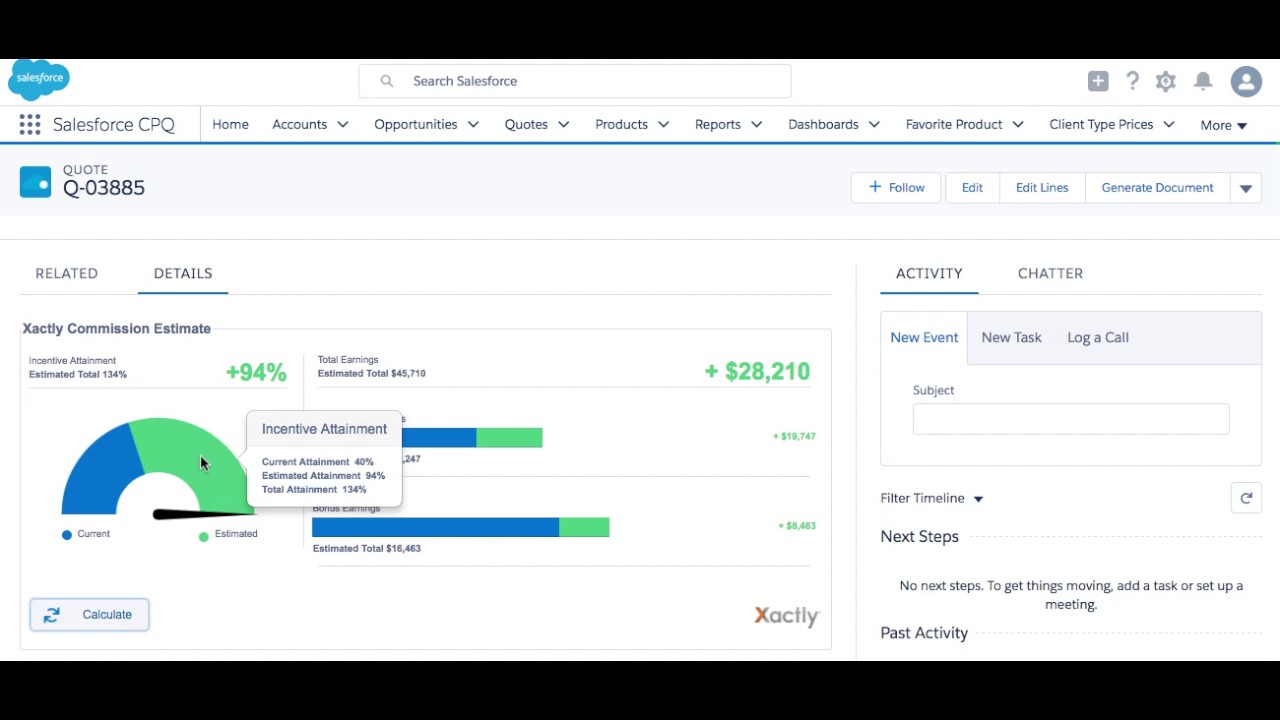 Once every product or service has been priced, the sales rep is ready to send the quote over to the potential client with just one click. Salesforce CPQ allows companies to customize the look of their quotes with company branding and special terms.
With CPQ, all quotes will look professional and consistent.
Salesforce CPQ Software takes the pain out of complicated pricing, helping sales reps rapidly create estimates, quotes, proposals, and orders that look great.
Salesforce CPQ (formerly Steelbrick) dramatically speeds proposal and quote generation, allowing image-based product selection constrained by your configuration rules. Managers appreciate control over discounts and processes. The CPQ software connects to your product catalog and populates quotes and orders in your CRM.
Salesforce CPQ (configure-price-quote) software comes in three editions, including full Quote-to-Cash that supports billing and collection.
Get ready to quickly and seamlessly create quotes that are complete, accurate, and tailored to your delighted customers.
HingePoint can get Salesforce CPQ set up and integrated into your company's sales process. Our experienced Salesforce developers and consultants will customize CPQ to your organization's specific needs.
HingePoint and Salesforce
HingePoint is a Certified Salesforce Developer & Consultant Team based out of Dallas, TX.
Your systems need to work seamlessly together. Just upgrading to Salesforce isn't enough. Off the shelf, Salesforce won't talk to your accounting software, analytics applications, or marketing programs.
Our Salesforce experts our here to fix that.
Because we're in the Salesforce Development Network (certified as Salesforce developers & consultants), we know SF inside and have the coding ability to make Salesforce yours.
Here are some of the Salesforce Services HingePoint offers:
Automate workflow and business processes with Salesforce
Mobile Forms and Mobile Apps, custom designed and branded from Force1
Custom Salesforce Designed screens, forms, navigation, sites, and security, all revolving around the way you want the system to work
Custom functionality to suite your usability preferences
Fully Branded Salesforce Site templates – unique to your company
Client and Customer Portals integrated into Salesforce
Document Storage and Management integrated into Salesforce
Security tied right into your Enterprise ID (EID) and desktop apps such as Email and Calendars
Project managements, tasks, and team sites
Integrate data and documents from upstream and downstream systems, seamlessly
Custom reports and dashboards. Your management, customers will appreciate.
Document templates for Word or Excel that export Salesforce data to automate documentation
Upgrades from legacy platforms to Salesforce
Migrate data and 2-way real time sync of data between Salesforce and legacy systems