---
Parameters
Families
The drawing sheets
The plan (top) and elevation (side) view of your model.
Stop repeating yourself
Here's their main point. Any schedules you repeat you can put in a Revit template. Any type of workflow you do for every project, you should put into a template. A schedule is basically a spreadsheet of your data. For example, you could have a schedule or the data of every door in your building. If you're starting a new similar project, you can either start from scratch and build the data needed for doors, or you can have a template with the saved data. Anything that you might repeat in any future project should be added to your template. ----
The Hard Part
You've got to go through this step. You have to tag all your elements and make every item unique. It takes time. But if you don't do it you might as well just use AutoCAD. Other tedious tasks include:
Annotation tags
Symbols
Text styles
Dimension styles
Legends
---
Linking AutoCAD to Revit 
Be careful.  This is not a best practice. You don't want to have too many AutoCAD links. AutoCAD files can have a lot of baggage in them and potentially crash Revit. Sometimes it's inevitable to have AutoCAD links, but it's better to get rid of AutoCAD links completely. ---
#1 Thing to Do: Get Started
Just get started. Just do a project. Hunker down. Bite the bullet and get going. A good place to start is with your last project. Just get it in Revit so you can start making your templates. Check out HingePoint's
Revit eBooks
to learn more.
[post_title] => Simple Tips Saving Time with for Revit Templates [post_excerpt] => [post_status] => publish [comment_status] => open [ping_status] => open [post_password] => [post_name] => simple-tips-for-saving-time-with-revit-templates [to_ping] => [pinged] => [post_modified] => 2018-05-28 07:00:15 [post_modified_gmt] => 2018-05-28 12:00:15 [post_content_filtered] => [post_parent] => 0 [guid] => https://www.hingepoint.com/?p=12243 [menu_order] => 0 [post_type] => post [post_mime_type] => [comment_count] => 0 [filter] => raw ) [3] => WP_Post Object ( [ID] => 393 [post_author] => 3 [post_date] => 2015-05-20 13:26:18 [post_date_gmt] => 2015-05-20 18:26:18 [post_content] => We get a lot of calls from companies thinking about, or building,
Revit 3D Families or libraries
. As members of the
Autodesk Developers Network
, we are blessed to get in on these conversations early and often. When we are in early, things run smoothly. Smoothly + no surprises + under budget and ahead of schedule... = The holy grail of
3D modeling and the Revit universe
. Developing proper Revit 3D content into families or libraries, is the key to
Revit Deployment
. See the example image of a Revit 3D Furniture model of a furniture assembly of a grouping of furniture. Each piece of furniture is modeled, put in the Furniture Family, placed in the Library and modeled as a furniture assembly.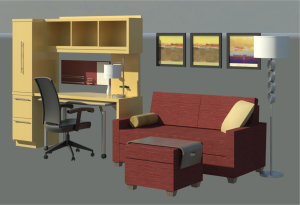 If you are planning to be expert Revit users, you must plan to be
expert
at the following capabilities related to
Revit Families
;
Developing
Maintaining
Distributing
The Big Three of Revit Families. Get these three right and it is smooth sailing, puncture your hull on one of these…smooth sinking. Why is being an expert in Developing, Maintaining and Distributing mission critical. Let me explain.
The Problem
Revit only comes with limited generic Families and you need
very specific products and construction components
for your project.
Download our 
BIM Comparison Table
 here. See where you are on to the path to BIM. The idea to be fully digital while printing on-demand, fully automated and able to collaborate with virtually anyone on a project.
Need help with BIM integration?
The Solution
You need to create the Revit content needed for your design before you start designing. See our blog article on Revit Content is King, for more information. The 3 main actions you may take:
Get Revit Families from Vendors
Create Your Own Content and Revit Families you current use across all projects. Remember to include your firms' products or standard design assemblies
Download Free Revit Family Libraries from reliable sources on the internet
You have the Solution, but there is a Challenge
OK, so each solution has a trade-off,… You could go with one, or you could pick a hybrid of the three. But not all models are the same. This furnture model assembly may look good, but what if it doens't have the right information for you?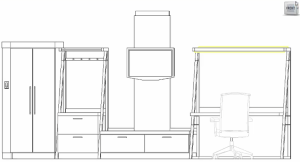 These are the most common trade-offs to consider:
Geometric Detail - The complexity of 3D models are unique for different disciplines and for each purpose. Go with too much detail…You get large file sizes and slower performanc. Don't model enough detail, you are not conveying the design solution fully. Both results are equally regrettable.
Custom Parameters – Do the families you have, include all the parameters you need to drive your business process? Often custom parameters are needed in addition to the Out of the Box Revit parameters.
Consistent Data Models – If you assemble Revit content from many sources, you might find inconsistencies in naming conventions, geometric detail, and use of parameters. Inconsistent components make it hard to schedule and do calculations within Revit. It will drive you crazy day to day.
If you want help wading through the challenges of creating clean Revit content. If you are building Revit Libraries to support you business processes….please contact us. You may like our blog on
Content is King for Revit Families and 3D Modeling >>
We specialize in clean
Revit content
, clean Revit models and perfect Revit results to drive an efficient design and engineering process. Plus our work is guaranteed,
literally
…guaranteed.
Contact us
for more information.
GET STARTED TODAY!
HingePoint covers the AEC Industry and is the author of 
The AEC Industry 4.0 Report
 and the 
Autodesk Industry Report 2017
. HingePoint helps construction and real estate development companies take control of their company's information. We combine systems, software, and data so all company information can be seen and accessed from one screen, like a smartphone or computer. HingePoint provides
Procore
,
SharePoint
and
Saleforce
consulting for Commercial Real Estate and Construction companies. HingePoint also helps the AEC industry with development & integration of AutoDesk and Procore products with enterprise systems. We are a trusted partner with over 25 years experience of systems development and integration work in the AEC industry. Our clients range from top hotel brands and restaurant chains to AEC firms and real estate developers and Facilities Management. We provide BIM with ROI. Results Guaranteed…Literally Guaranteed.
Check out our other BIM stories
4 Attributes of Companies that Use BIM Correctly
Virtual Reality, Augmented Reality Makes BIM Truly 3D
HingePoint's Roadmap to Create Your Own BIM Model
BIM Won't Save You, Unless You Address How You Work
BIM is the Holy Grail of building
An introduction to BIM: What does B stand for?
BIM Explained – From 3D Renderings to Construction and Marketing
[post_title] => How To Build Your Revit Content Family Libraries [post_excerpt] => [post_status] => publish [comment_status] => open [ping_status] => open [post_password] => [post_name] => build-revit-content-family-libraries [to_ping] => [pinged] => [post_modified] => 2018-08-01 12:14:18 [post_modified_gmt] => 2018-08-01 17:14:18 [post_content_filtered] => [post_parent] => 0 [guid] => http://www.www.hingepoint.com/?p=393 [menu_order] => 0 [post_type] => post [post_mime_type] => [comment_count] => 0 [filter] => raw ) ) [post_count] => 4 [current_post] => -1 [in_the_loop] => [post] => WP_Post Object ( [ID] => 12271 [post_author] => 3 [post_date] => 2016-12-05 15:07:27 [post_date_gmt] => 2016-12-05 21:07:27 [post_content] => Underwriters Laboratories (UL) wants to get credible sustainability data into
Revit models
more easily. To do so, UL recently launched a web-based product, sustainability-information tool that will help users select credible green products and place that information into their
Building Information Modeling
(BIM) workflow. "Most people know UL for our fire, mechanical, safety testing; we've been doing that for 120 years," said UL public affairs director Mark Rossolo at Autodesk University. "What most people also don't know though that we are the largest certifier of sustainable products for use in the buildings." The web app--called
SPOT
--features more than 40,000 products. SPOT's database will help architects and designers identify products by sustainable attributes, MasterFormat product codes and building rating system credits such as LEED v4 and the WELL Building Standard™. "We all need all to be thinking about having more sustainable products in our building," Rossolo said. "Is the carpet we're standing on admitting potentially harmful chemicals? Has that been tested? We don't know unless we put a product in... that has been certified."
---
https://www.youtube.com/watch?v=5HfAMUpzFcg&list=PLJOB2Ahoqzp8xnxVjtgO8TF563aGzUIsx
---
SPOT database goes beyond traditional green certification data to include a comprehensive view of a product's attributes through expanded product listings. The expanded listings will also include safety data, such as fire ratings and, for furniture, performance certifications and claim verifications.  This data will be curated and managed by UL to give users confidence that the data is from reliable, credible sources. "When you're getting to a Revit user you're at the ground level of importance for ensuring that those products that have sustainability attributes are put in there… like protecting occupant health," Rosollo said. "Starts to get us thinking about more than just, 'does this comply with specs that the architect gave me?'" To enhance the mobile experience, UL's SPOT app is available from the
Apple App Store
and
Google Play
. Additionally, UL is developing an add-in which will enable AutoDesk® Revit® users to access product data from SPOT and assign it directly to their project. To learn more about SPOT, visit
ul.com/spot.
[post_title] => UL Introduces Online Database to Easily Add Sustainability Data into Revit Models [post_excerpt] => [post_status] => publish [comment_status] => open [ping_status] => open [post_password] => [post_name] => ul-introduces-online-database-to-easily-add-sustainability-data-into-revit-models [to_ping] => [pinged] => [post_modified] => 2018-02-21 00:40:17 [post_modified_gmt] => 2018-02-21 06:40:17 [post_content_filtered] => [post_parent] => 0 [guid] => https://www.hingepoint.com/?p=12271 [menu_order] => 0 [post_type] => post [post_mime_type] => [comment_count] => 0 [filter] => raw ) [comment_count] => 0 [current_comment] => -1 [found_posts] => 4 [max_num_pages] => 1 [max_num_comment_pages] => 0 [is_single] => [is_preview] => [is_page] => [is_archive] => 1 [is_date] => [is_year] => [is_month] => [is_day] => [is_time] => [is_author] => [is_category] => 1 [is_tag] => [is_tax] => [is_search] => [is_feed] => [is_comment_feed] => [is_trackback] => [is_home] => [is_privacy_policy] => [is_404] => [is_embed] => [is_paged] => [is_admin] => [is_attachment] => [is_singular] => [is_robots] => [is_posts_page] => [is_post_type_archive] => [query_vars_hash:WP_Query:private] => fe2a7f1ec312074988587cd02e6d5579 [query_vars_changed:WP_Query:private] => [thumbnails_cached] => [stopwords:WP_Query:private] => [compat_fields:WP_Query:private] => Array ( [0] => query_vars_hash [1] => query_vars_changed ) [compat_methods:WP_Query:private] => Array ( [0] => init_query_flags [1] => parse_tax_query ) )