Giving Back Is As Easy As Riding A Bike
HingePoint is as serious about giving back to the community as it is about providing innovative integration solutions for our clients. So, we are suiting up in our HingePoint team cycling jerseys (and yes, those funky biking shorts) for the 24th annual Collin Classic Bike Rally on Saturday, June 13, 2015.
Proceeds benefit the important work of City House. City House is a Collin County nonprofit agency founded in the late '80s by two teachers. Some of their students were facing very adult problems – homelessness, violence and neglect. And so, the mission of City House was born.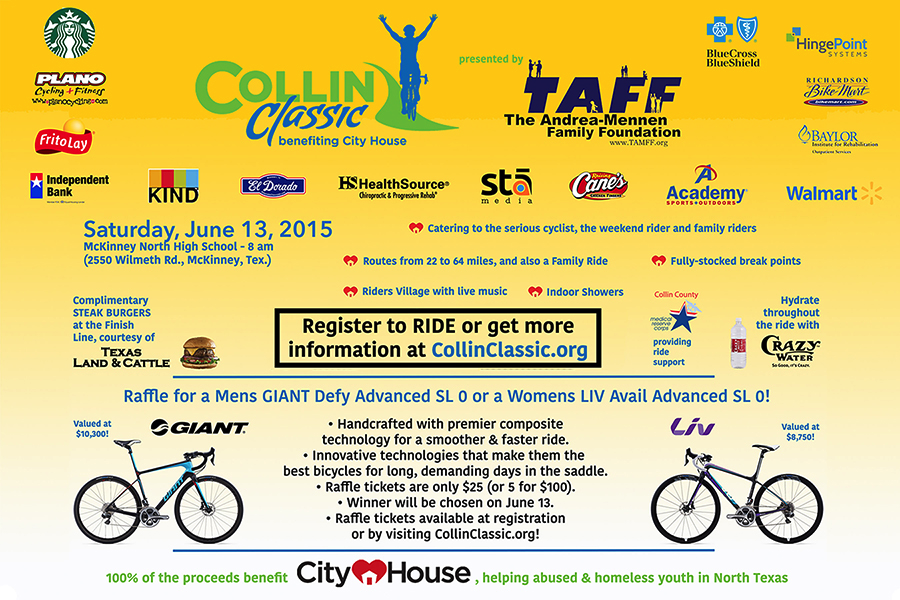 HingePoint is privileged to be one of the official sponsors for this event that provides fun activities for all ages and much-needed provisions for City House. Serious cyclists, as well as weekend and family riders, are all welcome to join the annual Rally. We're excited to roll out any support we can to City House and it's main sponsor – The Andrea-Mennen Family Foundation (TAFF). Rudy G. Andrea, the President/Treasurer of TAFF and a friend to the HingePoint team, introduced us to the Collin Classic Bike Rally fundraiser for City House, via his local biking club called the Rudy Ride. Rudy Andrea is raising the level of awareness throughout the cycling community about many worthy causes in the Metroplex. We are thankful to get involved in a worthy cause and proud to cycle weekly with Rudy and his pals.
HingePoint makes it a point to be intentional about giving back, volunteering and fostering a service-oriented company culture. We encourage our associates to invest 4 hours a week in service to others by utilizing personal talents in various organizations and causes. In addition, we provide pro-bono services to many charities and ministries that rely on technical systems to fulfill their mission. Our offering is the gift of systems integration, which can be combined with other charity and ministry gifts to maximize impact in local communities.
For many, biking brings up wonderful memories – freedom; the wind in your hair; training wheels finally coming off and discovering the world within your neighborhood. As good as that felt, it will feel "doubly good" to hop back on your bike and give to kids in need. City House has been around for 26+ years and they do more than provide emergency shelter and transitional services for young people … they empower change and transform lives.
On Saturday June 13th, get involved by jumping on a bike, making a donation and bringing focus to this important organization.
Links For The Event: