Here are some of our teams observations from AU2014. What were the big trends you saw this year?
1. Autodesk is All In on the Cloud
Autodesk is investing heavily in migrating all their products to cloud and mobile computing platforms. See all the new apps and platforms for CAD, CAM and collaboration, architecture, engineering, facilities management, etc. See CEO Carl Bass present all the Autodesk products on one slide. Do you know even half of these? Autodesk is growing fast through acquisition! And it will be key to integrate these tools into your workflow.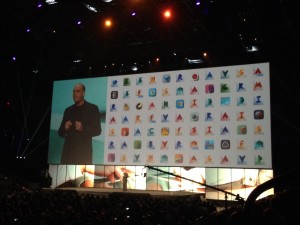 2. Licensing Software Moving to Subscription Model
Meaning you don't need to buy a full priced version of CAD or Revit for 7 – 12K$ but you can rent it monthly, buy credits for cloud computing for 3D renderings, file storage and mobile apps like BIM360 or Fusion360. This greatly lowers the up front costs of buying expensive CAD workstations and makes it easy to staff up for project work and ramp down again so your CAD stations aren't collecting dust.
3. 3D Reality Capture is the Big Thing
There were so many presentations this year on laser scanning facilities inside and out with lasers and even drones. Scanning "captures" real conditions on the ground down to millimeter accuracy and photography in the form of laser point cloud data that can be converted into 3D Revit models and BIM data. Scanning is considered much faster then manually modeling from scratch, but it is not without challenges in accuracy, data modeling conventions and detailed workflow and a whole new set of skill sets needed.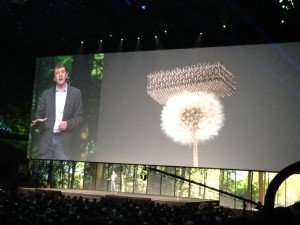 4. Automated Design
What? Taking Computer Aided Design (CAD) literally! Can Autodesk really use computers to automatically solve design problems without humans? Apparently yes. Using the massive cloud archive of CAD files Autodesk can mine that data to find best design patterns and simulate alternative designs, test those designs, and create unique new solutions we've never seen before. See this example of a material matrix that is so light weight it can…well you can see below.
5. Systems Integration is Critical
If you look at all these new products in the Carl Bass photo above very few Autodesk products inter-operate. If you plan to use different Autodesk products in your workflow and business process you must integrate many of them and integrate them into your enterprise platforms as well. HingePoint is a member of the Autodesk Development Network (ADN) and we track all the new Autodesk products with great interest to best advise our clients on the direction they should take with CAD and CAM best practices. If you need help with Autodesk integration please reach us and we'll discuss it.